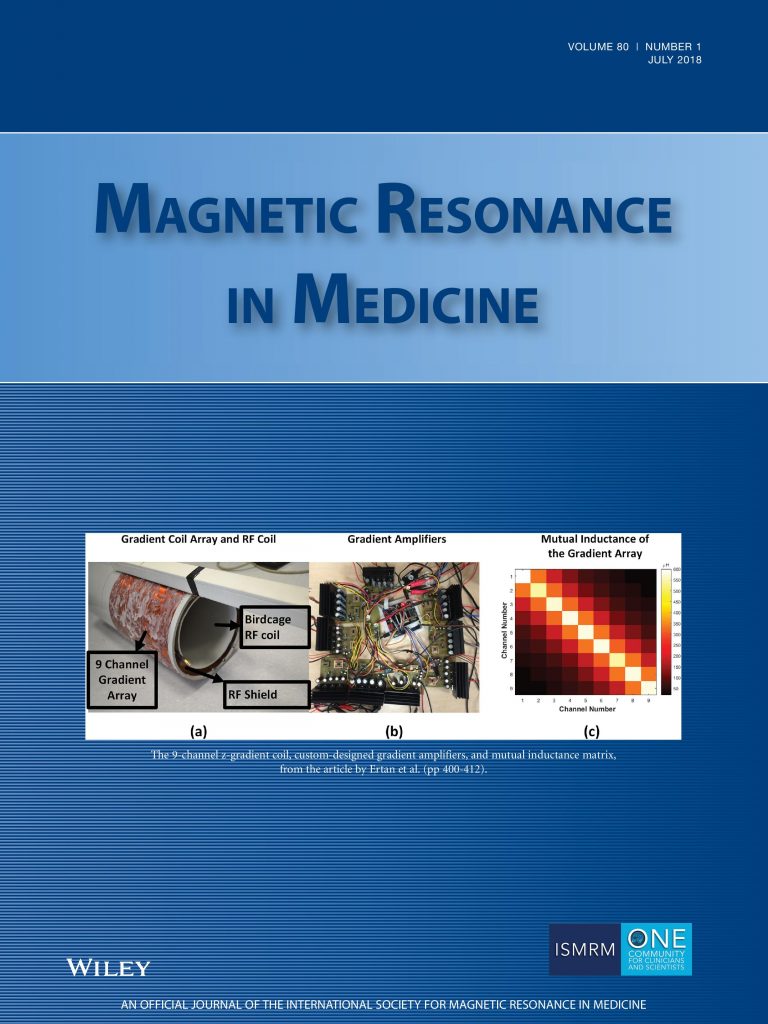 July Cover Art
A z‐gradient array for simultaneous multi‐slice excitation with a single‐band RF pulse, by Koray Ertan, Soheil Taraghinia, Alireza Sadeghi, Ergin Atalar
Quantitative comparison of delayed ferumoxytol T1 enhancement with immediate gadoteridol enhancement in high grade gliomas
, by Andrea Horváth, Csanad G. Varallyay, Daniel Schwartz, Gerda B. Toth, Joao P. Netto, Ramon Barajas, Péter Várallyay, László Szidonya, Jenny Firkins, Emily Youngers, Rongwei Fu, Prakash Ambady, Péter Bogner, Edward A. Neuwelt
Audioslides for Last Month's Editor's Picks:
Learning a variational network for reconstruction of accelerated MRI data, by Kerstin Hammernik, Teresa Klatzer, Erich Kobler, Michael P. Recht, Daniel K. Sodickson, Thomas Pock, Florian Knoll
Development of a quantitative intracranial vascular features extraction tool on 3DMRA using semiautomated open‐curve active contour vessel tracing, by Li Chen, Mahmud Mossa‐Basha, Niranjan Balu, Gador Canton, Jie Sun, Kristi Pimentel, Thomas S. Hatsukami, Jenq‐Neng Hwang, Chun Yuan
New! Top 5 Cited Papers
Recommended implementation of arterial spin-labeled perfusion MRI for clinical applications: A consensus of the ISMRM perfustion study group and the European consortium for ASL in dementia, by David C. Alsop, John A. Detre, Xavier Golay, Matthias Günther, Jeroen Hendrikse, Luis Hernandez‐Garcia, Hanzhang Lu, Bradley J. MacIntosh, Laura M. Parkes, Marion Smits, Matthias J. P. Osch, Danny J. J. Wang, Eric C. Wong, Greg Zaharchuk
Low-rank plus sparse matrix decomposition for accelerated dynamice MRI with separation of background and dynamic components, by Ricardo Otazo, Emmanuel Candès, Daniel K. Sodickson
On the accuracy of T1 mapping: Searching for common ground, by Nikola Stikov, Mathieu Boudreau, Ives R. Levesque, Christine L. Tardif, Joëlle K. Barral, G. Bruce Pike
Frequency and phase drift correction of magnetic resonance spectroscopy data by spectral registration in the time domain, by Jamie Near, Richard Edden, C. John Evans, Raphaël Paquin, Ashley Harris, Peter Jezzard
Online Platform Migration to Literatum for our Journal Homepage
Recently our publisher Wiley introduced a new, streamlined appearance for our journal Homepage.  It's based on a new platform called Literatum. It offers lighter, cleaner design, and features an article-focused layout and increased whitespace to improve legibility. A large amount of content was migrated during the changeover, which has gone relatively smoothly. If you notice a problem, please feel free to email mrm@ismrm.org.
Accelerated Publication Schedule in 2018:
To help meet the increased number of articles submissions (a record high of 1070 in 2017), we are publishing extra-large issues (~600 pages) for January-April 2018, and also paginating issues several months in advance. These changes are expected to significantly reduce delays authors have experienced receiving final volume/issue/page numbers for their articles.
Mobile Apps
Apps are available for both Apple and Android devices. To download the appropriate app, please search for words like "Wiley" and "MRM" at the Apple App Store or the Google Play Store.
Now Accepting YIA submissions for the 2019 ISMRM Annual Meeting in Montreal
Our ManuscriptCentral/ScholarOne site is open for manuscript submissions in conjunction with the 2019 I.I. Rabi Award to be awarded at the ISMRM Annual Meeting in Montreal. The submission deadline of 12 September 2018.  For more information about the YIA competition, please visit:  https://www.ismrm.org/YIA/ .
OnlineOpen 25% Discount for ISMRM Members
Magn Reson Med is very pleased to continue to offer its standard publication option: No page charges, including color pages in print.
Some authors, institutions, or funding agencies however, prefer or require papers to be freely and immediately available for download by anyone, regardless of their subscription status, i.e., Open Access. For those authors, Wiley offers an author-paid publication option called OnlineOpen. This option is only available for accepted papers, so if an author makes this choice it has absolutely no bearing on the peer-review process or any editorial decision.
We are pleased that our publisher is offering ISMRM Members a 25% discount on OnlineOpen fees for their Magn Reson Med papers. The author applying for the discount must be a current ISMRM Member. More information is available by clicking on the OnlineOpen link on the Magn Reson Med homepage.
Full Issue PDFs
Full Issue PDFs are now available for download.  Please follow the link available at the journal home page:
http://onlinelibrary.wiley.com/journal/10.1002/(ISSN)1522-2594
You will be prompted for your ISMRM login information.
Matt A. Bernstein
Editor, Magnetic Resonance in Medicine
International Society for Magnetic Resonance in Medicine (ISMRM)
Section for Magnetic Resonance Technologists (SMRT)