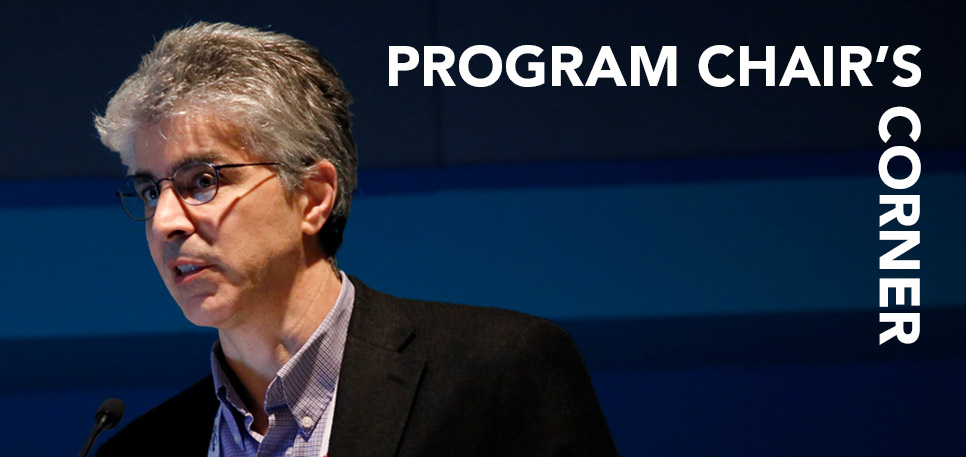 By Douglas Noll, Ph.D., 2019-2020 Annual Meeting Program Committee Chair
Whew! I've finally recovered from the 2019 ISMRM Annual Meeting in Montréal. What a wonderful meeting – great science and, of course, great to see old friends and colleagues and great to meet creative new scientists.
Let me introduce myself. I am very pleased to be the Program Chair for ISMRM in Sydney, which I am really looking forward to because, in part, the 1998 ISMRM in Sydney was one of my favorite meetings ever. The ISMRM and its annual meeting are a significant part of my professional life, and, in fact, Montréal was my 30th ISMRM (counting meetings of the predecessor society, the SMRM). I am a Professor of Biomedical Engineering and Radiology at the University of Michigan, USA, and have been working on image acquisition and reconstruction for most of my career and working with functional brain imaging for more than 25 years. In the ISMRM, I have previously served on the Board of Trustees from 2000-2003, was Chair of the Educational Program in 2002, and served on the Annual Meeting Program Committee from 2007-2010. I am deeply invested in the ISMRM and the annual meeting.
The ISMRM in Sydney will be a great meeting. First, Sydney is a friendly and welcoming city, and the spectacular International Convention Centre Sydney is brand new and located in Darling Harbour, a lively and exciting part of town. Planning for a great educational program is nearly complete, and we will be continuing several wonderful features of recent annual meetings; for example, the always popular Power Pitches, the Member-Initiated Symposia, and many activities focused on trainees, such as Secret Sessions in the Resonarium. We also recognize that there are areas where the conference can be made better and will be taking a close look at member feedback to make improvements to Digital Posters, the meeting app, and search functions. Watch for more information on the meeting and deadlines in the coming months.
I look forward to seeing everyone "down under"!
Douglas Noll, Ph.D.
ISMRM Program Chair 2019-2020