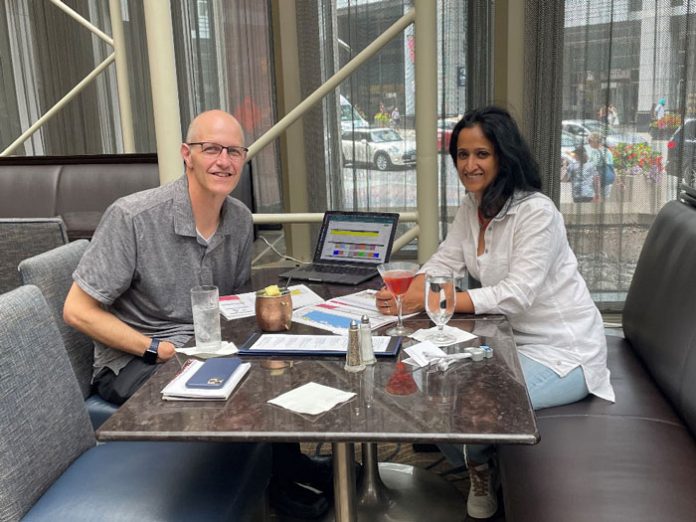 30th of August 2022 – Second blog
Hey there folks! I hope you are all refreshed with the perfect size vacation during this summer.
Thank you to everyone who took the time to complete the annual meeting survey.  We look forward to sharing the results with you in a future blog.  The survey will help guide us on how to not only deliver the content for which you are asking but review what worked best and what to take forward into the future.  In the meantime, the Annual Meeting Program Committee and the Central Office are busy confirming our highly respected educational speakers, plenary speakers and named lecturers for our upcoming ISMRM & ISMRT Annual Meeting & Exhibition in Toronto.
One of the highlights of our Annual Meeting in Toronto will be a continuing initiative from the past – the CFM! Did you know what is a CFM? CFM stands for "Clinical Focus Meeting" and was first run in its current format in our London Annual Meeting in 2022. It is a three-day event packed with educational and scientific sessions around a topic of interest prepared carefully to give clinicians and scientists a chance to deep dive in their preferred topic of research and clinical practice. For 2023, we have chosen an intriguing topic: Imaging the Fire in the Brain. When we hear the word "neuroinflammation", our minds come up with "multiple sclerosis"! But did you know that neuroinflammation is the underlying process in all neurologic diseases? Migraine, tumors, schizophrenia and even neurodegenerative diseases. The brilliant Annual Meeting Program Committee members have come up with some very cool sessions with real-life cases. We will have sessions that allow clinicians and scientists to understand about the fundamentals of neuroinflammation but also how to image the pathophysiological process in several neurological diseases. Many of these sessions offer SAMs to our North American clinicians.
Are you interested in finding collaborations on how to write a grant on neuroinflammation? Or are you in search of collaborations with expert scientists in a particular technique in MR? Then, this is the place to be. Take this opportunity to hang out with our scientists who will be onsite helping us neuroradiologists and radiologists to learn more about the basic and the advanced physics of MR. You know how important this is when planning for our projects, writing grant proposals, collecting data and interpreting them. We will have dedicated hangout spaces for all of you interested in kickstarting your new projects.
The Program at a glance (PAAG) is online and can be found here. The page and its search functions are still work in progress. So, don't start grumbling (yet!). It is not perfect. Be proactive though and send me your ideas if there is something you think we are missing. We will do our best to incorporate them.
Check out my next blog in late September where I will detail a more concrete vision of our next Annual Meeting. I will also explain more about abstract formats and how to submit your abstract using the right category and the correct keyword.
Nivedita (Niv)
Program Chair 2023